Our Collaboration Projects Featuring Friends We've Gained Through Our Music!
~ This article was written by Michael Coyne of
Expedition Outreach
 ~
*
Editor's Note
: Michael has been using our music during his expeditions, and we'd like to see ourselves as one of his music sponsors. Check out his blog and get to know the man behind an awesome outreach program!*
*Team E.O. uses the media to spread our message & to capture the attention & imaginations of our audience. We show people that by facing ones fears, we can reach their own level of acceptance of fear, and achieve a new level of enlightenment, which we feel is the key to all true lasting happiness.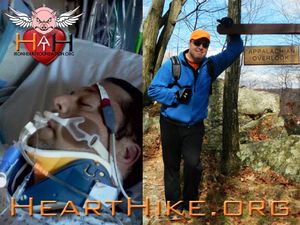 My friend & Honorary Team member of Expedition Outreach, John Kolker http://ironheartfoundation.org/ironheartracing/member_detail?id=1753  is set to embark on an AT trail through hike to raise money & awareness in the fight against heart disease.  This article is dedicated to him. http://expeditionoutreach.blogspot.com/

Technology is both a blessing & a curse for humanity but no matter what side of the fence you fall on, we have to admit it can enhance our experience of nature on extended hikes, bike tours & expeditions. I remember the days of carrying heavy satellite phones, laptops & large Motorola radios on expedition deep into the Alaskan wilderness of the Wrangell Mountains, all to broadcast live on television from our summit. I have dealt with all possible manners of technical difficulty. Back then I would have been the first one to make the argument that technology distracts us from the beauty of nature, but we have come so far in our advances that this new lightweight, mostly waterproof technology keeps us safer, happier & healthier, truly the power to enhance our experience on that long road through our own hearts to come back home once more.


My suggestions for a complete expedition technology inventory for a solo trip… 
The hows & whys…
I use the IPhone, so based upon my own experiences, we will use that as an example though I understand most smart phones have similar APPs. It's one piece of tech that does many things thus saving weight.
Add a pair of EcoXGear wired headphones, they do not need charging, they are totally waterproof, they weigh next to nothing & are stereo. There are several good waterproof cases out there I like the ECOPOD.  The IPhone has the following functions one might need.
An MP3 Player: With your favorite music, music is a performance enhancer & you will have LONG hours hiking or on the road. You have plenty of time to listen to nature but it's also amazing to have a soundtrack playing. Music as a stimulant (when you need it most) instead of taking an actual stimulant.

Emergency safety distress beacon. Secondary to the DeLorme.

Contains maps of all the Trails & towns you will visit on your journey.
When meeting new friends on your trip you can use your phone to make notes & reminders, jot down names, exchange numbers, friend them on Facebook either then or later. You would not need a pen & paper as this serves that purpose. If you do carry a writing system bring a waterproof expedition notepad & NASA pen but with the Dragon Speaking Naturally APP you can go hands free! Check out the Trip Journal App.  
It's a secondary altimeter, barometer & compass. A complete navigation & weather system.

A secondary backup watch & flash light

A calendar

A backup camera that posts directly to your Facebook page, & your group where people can follow you. It can pair with a DeLorme Explorer InReach so you can make posts to a Facebook page & live progress is possible! This along with MapQuest is a great feature to let friends, fans & family know where you are.

A weather APP gives more accurate weather readings than your barometer as you have professionals interpreting the drops & rises in pressure. 

Audio books allows you to read or listen to the books that you save in your IPhone & saves weight of a book, instead of bringing one, you can bring many. I recommend The Power of Now, Into the Void, Into Thin Air, The Perfect Storm, The Endurance, Sun Tzu's Art of War, Into the Wild, Marvel Comics, all classic trail reads… 

When resting you can make collages & edit your images so when you post they will be more interesting.

You can play games like Plants verses Zombies!

You can pare it with an activity tracker like The Rein by Jaybird http://www.jaybirdsport.com/    which gives you all kinds of health data.

I like the Map My Fitness & My Fitness Pal Apps to record calories burned & taken in to make sure I am eating & hydrating enough.

And so much more!
Along with music you can have sound meditations, they can cure insomnia, help bring you into the moment of now to increase appreciation, lift the blues on a rainy grey day & help you wake up in the morning.  

Speaking of hydration I recommend a CamelBak Flow Meter that fits right onto your CamelBak water bladder, a must to rehydrate properly. http://shop.camelbak.com/antidote-insulated-tube-with-flow-meter/d/1149_c_300_cl_1059  Hydration is its own article but I just wanted to add this as it is technology.
Your primary camera should be all about telephoto because your IPhone excels at selfies & close range shots of new friends you meet along the way. Consider instead of or as an addition to, a Contour video camera which also takes these amazing wide angled photos that are similar to a Go Pro but I feel, better. Waterproof & fits in the palm of your hand. The Contour easily pares with your IPhone.

I carry an IPhone 5 but these new larger screen IPhone 6's are better for reading your books & even watching videos.

This would be my system of technology all coupled with the appropriate Goal Zero Solar panel recharging system, they have many & it's probably best to consult with them what is right for you once you select exactly what you will bring. I hang a small solar panel right off my backpack so something is always getting recharged up while I trek, climb, paddle or ride. Depending upon what you choose all this is only between ½ a pound & 1 ½ pounds total. Definitely worth the weight. 
- Original source found at: http://expeditionoutreach.blogspot.com/
SCRIPTURE READING
Psalm 51 - A Psalm of King David
A lovely scripture reading read by one of our loving supporters & YouTube friend, 
Armored Believer
, using one of our music therapy tracks as his background audio accompaniment.
Simply Lovely. Thank you, Armored Believer! 
The people behind 
Brainwave Power Music
 were engaged in a part of a project collaboration with a group called 
Aesthetics & Therapeutics Lab
, consisting of art therapist Dr. Marina Masic and media artist Jakob LeBaron Dwight, who formed to initiate experiments and installations in art and healing.
This project collaboration was held last June 2014 and the Aesthetics & Therapeutics Lab had installed their first immersive multisensory environment in the Vortex Immersion Media Dome in Los Angeles, as part of the group immersive Art exhibition 
MORPHOS
.
What are MultiSensory Environments? 
"Multi-Sensory Environments (MSE's) are artificial or enriched environments that can be configured to interface with any individual level of abilities. MSE is a "dynamic interactive process utilizing the natural process of sensory stimulation and feedback analysis from the environment." It is a designed space to interact with a person's 'Sensory diet' by utilizing Controlled Sensory Input (CSI). MSE's are devoted to all of the senses; different pieces of equipment provide visual, auditory, olfactory, tactile, vestibular, and proprioceptive sensory inputs."
Aesthetics & Therapeutics Lab
conceived four modules designed to investigate different areas of functioning using Multi Sensory Environments:
Color Fields and Changes
Light and Sound Environments (LSE)
Perception: Use of Abstract Paintings for Joint Attending and Interactivity
Spa & Dream Space Consciousness 
Our own music was used in their Light and Sound Environment (LSE) installation that involved light and sound therapy. The main concept for this was to stimulate healing and consciousness through the different spectrums of color, light, as well as audio and motion perceptions. Their target usage were for the treatment of Autism, Traumatic Brain Injury, PTSD, depression, OCD, anxiety, insomnia, circadian rhythm disorder, Alzheimer's and Dementia, Learning and Communication Disorders.
The Project Method of the LIGHT & SOUND ENVIRONMENTS module:
LSE is a module ATL has been working on composed of Immersive Spatial Light and Sound tracking in the environment. Applying the principles of Phototherapy, Light is a beneficial communication technology that can be adapted for healing. The principle of Sound is a second major component to this module.  By utilizing surround sound speakers in the dome Environment, as well as Binaural beats, a subtle effect of sound integrates in a 3 Dimensional experience.  Incorporating MSE principles of directing the viewer's engagement to follow various ambient sounds in different space works to promote spatialization awareness and a greater sense of proprioception.

Additionally, Binaural Beats and isochronic tones for brainwave entrainment will also be integrated to explore effects of vibratory technology. 
Listen to snippets of Brainwave Power Music's audio tracks on their website, and see the beautiful imagery they used for this exhibition: